Waner drove out of Reno
headed back to the Ponderosa
loaded on pills and booze
f-u-n times
had a little, err trouble, driving
and crash! like that
He killed someone, someone innocent
did three years in the pen
Xanax cold turkey
hallucinated he was living in the Bonanza TV show
yeah
got out of the pen
wasted what was left of his life
then died
life's a gas
RIP
Re: Jon in California
« on: March 15, 2007, 02:03:23 am »
Jon
Quote from: nixnay on March 12, 2007, 11:51:52 PM
Hey, J.W., I think you think like a snuggly ole bear. lololol. or a little puppy dog, what do you think liz?
hey, jon, can you tell us all how you came out of your c/t? it is rather amazing! I think it is rather inspiring and may give some of us who have been off for a while some hope. you might have to make a song out of it just like Johnny Cash. lol.
Quote from: dave on March 13, 2007, 11:54:00 AM
Quote from: Jon in California on March 13, 2007, 11:24:46 AM
Hi Everyone.
Jay, I'll be happy to relate the HELL I went through for 8 mos. getting off the Xanax. I'll do it tonight after I get home, Savvy?
Y'all have a nice day
I'd really like to hear your story as well.
Thanks
Dave
OK, I'll try to give you the short version. (LOL, It won't be short).
After I took the plea bargain (I didn't really have a choice), it was about 9 mos. 'till I had to show up for the sentencing. The judge told me to get my "affairs" in order because I was going straight from the courtroom to jail.
I didn't know it at the time, but I thought the state put you as close to your house as possible to allow for visiting…. Wrong! They put you anywhere in the state system that has "bed space". I also thought that the judge could order the continuation of my meds…. Wrong again! Once you're in prison, they "OWN" you.
I spent 3 days in the county jail before I was transferred to state prison. They did keep me on my Xanax there.
When the prison bus showed up I had papers from my doctor telling them what I was on and how much per day. Before I got on the bus I was strip searched and the guards told me I couldn't take ANYTHING with me… They tore up my doctors papers.
First they took me to DVI in Tracy (a prison referred to as "gladiator school" because of the number of stabbings). That's where I was "processed". I was given an orange jump suit, 3 feet of toilet paper and a blanket. Then I was thrown in a cell. The next day I was taken to the prison "doctor". He asked me if I had any medical problems so I told him about the Xanax. He said that I wasn't going to get any there. I was already starting to have w/d symptoms… The doctor saw me for about 30 seconds and sent me back to my cell… 3 days later, I couldn't even walk. The guards said, "you don't walk, you don't eat"…. I kept writing notes to the warden and sending letters to the wife asking her to contact the judge who sentenced me and see if he could do something…. I never got any mail back. (I later learned that the staff does this to EVERY new convict as a "game". They hold the mail for about a month before you get it)..
About a week into this, I started hallucinating (auditory and visual), I thought I was on the Ponderosa (Bonanza) and was standing in line waiting to get my $0.25 for the days work… I knew where I REALLY was but it seemed real to me.
I hadn't eaten in about 2 weeks by then and couldn't stand up. The guards just laughed and said, "looky here, we got ourselves another nut".
I finally got a reply from the judge saying that he had spoken to the warden, was told that I was getting "appropriate" medical care and not to contact him again. I also got a paper signed by the prison shrink saying that I'd been "evaluated" by him and was appropriate for "Mainline" placement. (General population)… I had never seen the guy.
I was "wired for sound", couldn't eat or sleep and really thought I was going to die. The guy in the cell next to mine didn't get into his cell fast enough for the guards liking so he was thrown in by the guard. This kid was 24 yrs. old and had severe asthma. His inhaler was crushed when the cell door was slammed on him. His cell-mate was screaming, "Man down, man down!!!!" No-one came. They found him dead in the cell the next morning…. I guarantee you that his family wasn't told the REAL reason for his death… Everyone around him was either shipped to another prison or moved out of the cell-block.
By this time I had been there about 2 and a half weeks… Oh yeah, I also got a copy of my medical "examination"… Gee, it had a blood pressure reading on it as well as a negative TB test, heart rate, Etc… NONE of these tests were ever done.
21 days in and I was just fading in and out, laying on the floor and my cell-mate told me that I'd had several seizures (I don't remember that). I was starting to pee blood and told one of the guards who said he'd tell the doctor. I guess he forgot.
26 days in and I was carried out onto the tier by my cell-mate, who dropped me on the floor and told a guard that I was "sick"…. They took me to the prison hospital and was told that I had kidney stones and my kidneys were shutting down… The doctor tried to get me into an outside hospital… An associate warden who's name was Schmidt said that I'd written too many letters and they didn't want any outside institutions to know what was happening…. They put a lot of saline solution into me, shot me up with Morphine and sent me back to my cell. The warden ordered the staff to bring me 2 peanut butter and jelly sandwiches a day. By this time, I didn't even remember my name.
I'd try to eat, throw up, eat some more, throw up again and so on… Then I went before the "classification committee". They decide your custody status and what kind of job you'll be assigned to… They took one look at me and transferred me to Vacaville (CMF), another prison as a "cat-J" (Mental case). I got there and was thrown into another cell… I got lucky, my cell-mate had some food and I was able to eat a little here and there. My wife was denied visitation rights because the warden told her that I was a danger to myself and others and was in a PCU (Protective Custody Unit). No visitation allowed. This was a complete lie.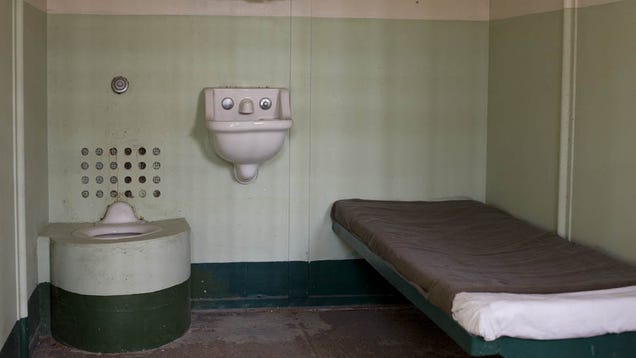 I saw the prison psychiatrist and told him what was going on… He said he had no choice but to reject me as a "cat-J" and sent me back to Tracy. I went before the same classification committee and they sent me down south to Solidad… Even though I was a minimum security convict, the prison did what they call a "population over-ride" and set my custody at "MAX-A" (The highest custody there is). I was in the same cell-block as Sirhan, Sirhan (Not sure if I spelled that right but he's the guy that shot Robert Kennedy)… Again, I got lucky and got a good counselor who lowered my custody to "MAX-B". He read my case and told me he would do what he could to get me out of there.
About 7 weeks had passed by then… My symptoms were, dizziness, vomiting, blurred vision, tingling all over, bleeding from my nose and ears, stiff muscles, ringing in my ears, insomnia, lack of appetite, muscle twitching and involuntary jerking, complete loss of bladder control, couldn't walk, metal taste in my mouth, dry mouth, heart pounding, breathing problems, and complete depersonalization, cramps. I really thought I was going to die.
About this time a guy approached me asking if I wanted any drugs? I said yeah, get me some Xanax or valium… He couldn't but got me something called Doxepin. This stuff put me to sleep and I slept for 4 days. At 2:00 AM a couple of guards came into my cell, grabbed me and took me to a prison bus heading for San Quentin. My counselor had arraigned my transfer. I hit S.Q. in early June.
I managed to smuggle some Doxepin in there in the bottom of a deodorant stick. It did take the edge off a little, not much.
I was placed in North-block one floor below death row. I was managing to keep some food down by then and some of the really severe symptoms started to subside. I still had trouble remembering my name and still couldn't walk without assistance.
When I went before classification committee, they lowered my custody level to "MIN-B-ORWD" (The lowest custody level there is). At that point I was able to "front myself off" as just a regular convict… I spent 6 weeks in North-block and was transferred to "H' Unit (Medium security) awaiting transfer to "The Ranch" (Minimum security). Drugs were rampant in there and I started snorting heroin… I could eat and function OK that way. I was also taking the Doxepin for sleep… I hadn't seen my kids or my wife in over 3+ mos. by then.
At that point my symptoms were dizziness, muscle spasms, nausea, vomiting, loss of balance, twitching, depersonalization, mild hallucinations, severe agoraphobia (I hardly ever left my cell), ringing in my ears, drooling, severe nightmares, blurred vision, Anxiety through the roof, and shaking all the time… I could remember my name and prison #.
I lucked out again and met an old acquaintance from my younger days who happened to be the head of the Aryan Brotherhood (AB)… That's the "gang" that "con,ed" the prison… Now the Aryans are supposed to be NON Jewish and what they do is to control all the drug trafficking. They're called "skinheads" on the street here. "Red" (The guy I knew) and I go back to grade-school. His last name is Rosenzweig. He passed that off as a German name but he knew that I knew in reality He's a full blooded Jew… He obviously didn't want this getting around… He made me a deal… I keep my mouth shut about him being Jewish and he'd put out the word to protect me… I agreed and he kept his end…
Red told me who was who in there and what I could get from them… He also got my visits approved in a couple of days (I didn't ask how). He also set me up with some of the guards that brought in drugs. Between him and my wife smuggling drugs to me, I now had all the Xanax and Valium I wanted. After almost 8 mos. of pure HELL, I started to feel "normal" again. Once the warden found out that I had a state smog inspection and repair license, I was "set"….
This is getting to be a "book" so I'm going to cut it short. I spent my last 22 mos. livin' pretty darn good in there. I NEVER ate in the chow hall… I did so much work on the correctional officers personal cars and all the smog checks for the 250+ vehicles in there + the Golden Gate Transit authority vehicles + the wardens personal car, I always had a breakfast burrito on my smog machine in the morning, Pizza or burgers for lunch and believe it or not, steak, asparagus and mashed potato's for dinner almost every night…. Not to mention the food I had that the staff looked the other way on…
The first 8 mos. were HELL! after that, I did pretty much as i pleased in there. I even had a vehicle assigned to me so I didn't have to walk so much and only had to present myself once a day for "count" instead of every 4 hrs…
Also had all the conjugal visits I wanted whenever I wanted them (You're only allowed to have 'em every 6 mos)
Well if ya' took the time ta' read this "book", I hope it answered your questions… If not, let me know specifically what you want to know and I'll be happy to answer you
Good night all!